Meets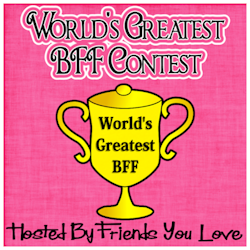 Happy Thursday Seekers! Yesterday we announced Friends You Love! Today begins our first contest. Our World's Greatest BFF Contest! Since it's Thursday, and my
sissy
, (who just so happens to be my BFF), is hosting her
Share a Spoon
, I decided to combine my posts! Besides is there anything better than sharing sweet treat recipes with your girlfriends? Actually, now that I think about it, just going to visit my sissy and eating her sweet treats is better than making my own! LOL! Less work and she's so much better at the baking thing than me! So head on over to the
tank
and link up your recipes and then head on over to our new
FYL
site and post your entry for our World's Greatest BFF contest!
I totally started blogging because of my sissy. She was blogging and she loved it. Unlike me, my sissy is a writer, an honest to God author. I had never really even thought about blogging. I didn't think I'd be any good at it. It wasn't until Brandee became a "new" mother again, by surprise, that I really thought about it doing it. I saw the friends she had made through blogging, rally behind her and show her so much love and support. I thought it was absolutely incredible. Not longer after that, her blogging BFF,
Daffy
, lost her sister. And again, I saw so many bloggers come together, to show their love and support, during her time of need. I was blown away. It was something I wanted to be a part of. I never knew how close it would bring me and Brandee. She's my blogging BFF, my sister by birth, but my friend by choice. And I owe a great deal of that to blogging. She reads and comments on my every post, and most of the time, she's the only one! I love her for that! She supports me and is there for me more than I could ever tell you! She's the best blogging BFF a sister could ask for! Click
here
to read from another post!
I'm not really a baker. So, I decided to research recipes, and try to find a "bar" recipe to make or perhaps an easy cake to bake. I had a cake recipe that I was going to share. I honestly did. It was a cake I used to love. But last weekend my mom made it and it wasn't what I remembered. Not because my mom didn't make it the right way, it still tastes like I remember. But I think my taste buds have changed since the last time I ate it. I used to LOVE it, and now, um, not so much.
When looking up recipes I found this
big-bright-apricot-bars.
OMG! They look A-M-A-Z-I-N-G! They are exactly what I was looking for. Well, I didn't want to steal her post! (I did think about it)! LMAO! Just kidding, I'm not that kind of girl! But I promise in the near future, I will make these and post about them. Or maybe I'll just bug Brandee until she makes them for us! (I already showed her the link, maybe she'll make them for "us" when
Kristin
comes next week)! HINT HINT!
I did make a sweet treat and it includes the word bar! You even serve it in little squares! LOL! Brandee's gonna kill me for this one! Dead. Murdered. Kristin, send me a postcard to hell and let me know how the apricot bars were!
Heath "Bar" Rice Krispies Treats
3 Tablespoons butter
(I used 5)
1 10 oz package of regular marshmallows
(I used 1 and 1/2)
6 cups of Rice Krispies
(I used one box, about 8 cups)
half a bag of Heath Bar Bits
(Found in the baking isle)
I just followed the regular directions. Melt the butter on low heat. Add the marshmallows, stir on low heat until melted. Remove from heat. Add the Rice Krispies. Stir until completely coated with melted butter/marshmallow mixture. Using a buttered spatula spoon into a 13x9x2-inch pan coated with butter (or cooking spray). Top with Heath Bar Bits. I placed mine into the oven under the broiler so the chocolate would melt!
So it's not a cake or a "bar" but we loved them!
Here's how to enter the The World's Greatest BFF Contest:
~
Write a post about your BFF.
How do you know her? How has she been there for you? Tell us about the things you've been through together, through thick and thin. Why is YOUR BFF The World's Greatest BFF?
~
Come back here or go to FYL and link your post up
Entries accepted 9/2 - 9/19
On 9/23, we will post our Top 5 favorite BFF posts.
~
Beginning 9/24, the public can go to FYL and vote for their favorite!
~
Voting will close at 5 p.m. CST on 9/29
~
The winner will be announced at Twitter Gala on 9/30 and receive an extensive prize package
for herself AND her BFF!