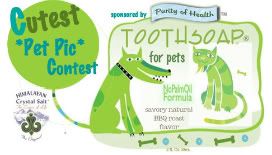 From left to right. . . first up
Charlee
Bugs (aka demon dog or momma dog), in the middle is
Loona
(aka
Looloos
,
Bitzee
or
lil'bit
), and the one trying to hide is
Krickett
(aka my handsome devil)! These are my chi babies! I just LOVE this picture! They love to play fight!
I love that
Charlee's
eyes are red in this picture and it makes her look crazy! It just wouldn't be the same without the red demon eyes! She's actually a real sweetheart, unless you're trying to touch her stomach or dry her off after a bath. Then she turns into the monster pictured above!
Bitzee
is the EXACT opposite of this picture. Here she looks all timid and scared of
Charlee
. But she's usually the one reeking havoc on all the other dogs! She terrorizes Gizmo, not pictured, my Lhasa
Apso
. In fact, she terrorizes everyone! (Especially my MIL)! She's such a little turd! She was the runt and she only weighs around 2 lbs. She's
wittle
and we wove her! She rules the roost!
Krickett
, the one with his head down, trying to hide, is showing his true colors! He's a lover not a fighter! He's always trying to be the peace maker between
Charlee
and
Bitzee
! He is the most handsome Chihuahua I have ever seen! This picture does not do him justice!
I come from a family of Chihuahua owners! My parents have 2, my oldest sister has 4, my other sister has 1, and I of course have 3! We LOVE our Chihuahuas!